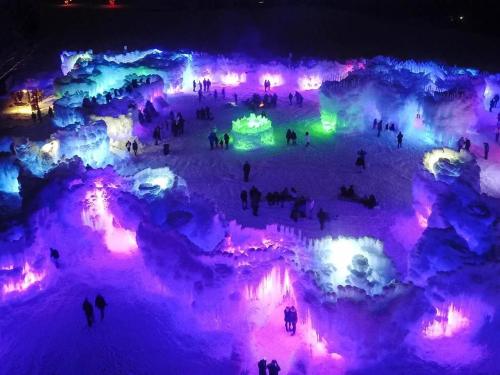 Winter Wonderland Special
Lake Geneva is going to be site to see this winter with all the activities lined up! Here are SOME of the big season events to mark on your calendar.
Ice Castles On The Beach: January-February / Weather Pending

NEW THIS YEAR! These ice castles are hand crafted by a team of 20-40 "ice artisans" and take about two months to build. They are built with hundreds of thousands of icicles and lit up with embedded LED lights that twinkle to music. You will be wowed by the creative combination of tunnels, fountains, sculptures, slides and thrones built into these magnificent structures. Please note: Tickets to attend the Ice Castles MUST be purchased in advance online. DETAILS
Ice Skating in Flat Iron Park: January-February / Weather Pending
Also new this year is an Ice Skating Rink that will be built in Flat Iron Park, right across the street from Harbor Shores and along the lake front.
Winterfest & U.S. National Snow Sculpting Completion: Jan. 26-Feb. 3
If you haven't seen it yet, come experience Winterfest 2019 & U.S. National Snow Sculpting Competition! Watch the teams work tirelessly to turn their design into a piece of art! There is also featured events before and during the competition to embrace Lake Geneva's winter season with family fun activities. DETAILS
Planning on coming to one or more of these events? Save up to $50 with our Winter Wonderland Special!
Coupon Code: SNOWBALL

**Coupon Code is required to get special rate. Special rate is available November 21-February 28 and is not valid with any other special/discount.
Or Call 888.746.7371 for Hotel Reservations